Simm Sevabolt hydraulic bolt cutters
Simm Mining Products offer a range of Hydraulic Bolt Cutters, which can be operated by a hand pump (700bar), electric or compressed air driven power packs. They can also be operated from a lower pressure source via the Simm Intensifier.
Our units offer fast action cutting with spring return, along with built in safety overload pressure relief valves. The blades on these bolt cutters are heat treated and of high strength to ensure a long life, and are suitable for roof, floor bolts and bolt cutting on salvage operations.
Simm's SB1 model has a 25 mm capacity and makes light work of cutting through bolts and steel bars. Blades are easily replaceable and no set up time is required. If you are looking for something slightly more heavy duty then the SB6 model has a 35 mm capacity.
| Model | Capacity (mm) | Weight (Kg) | Spare Blades |
| --- | --- | --- | --- |
| SB1 | 25 | 18 | SB7 |
| SB6 | 35 | 25 | SB9 |
Working Pressure 700 bar
Single acting, spring return
Cuts bolts and steel bar
Max cutting capacity 35mm
No set up time required
Easily replaceable blades
Very robust and strong hydraulic bolt cutters, construction manufactured in the UK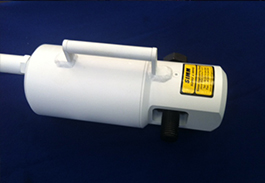 For more information on our Hydraulic Bolt Cutters please don't hesitate to contact our experienced team on the phone number provided.
Simm-Pul hydraulic haulage units
Versatile pulling units suitable for unlimited applications including moving underground plant and equipment for use in deep mines or other industries and environments where conventional pulling environment or winches are unavailable and cannot be accommodated.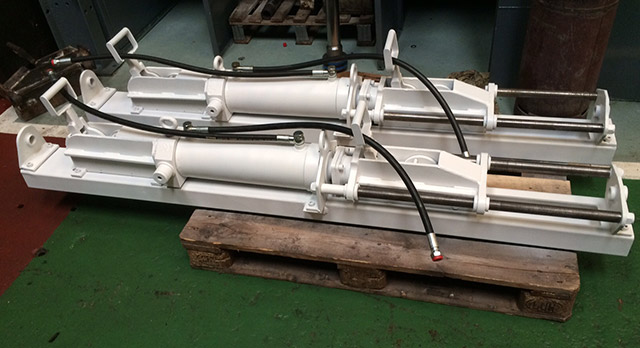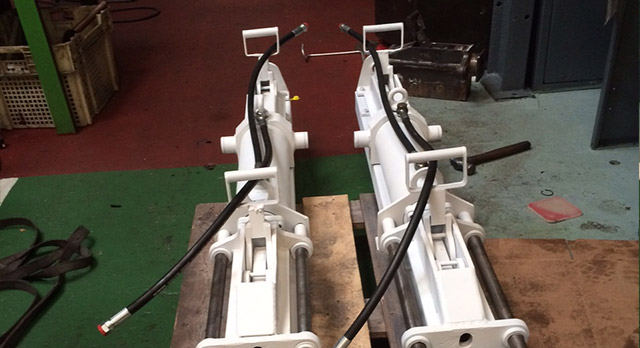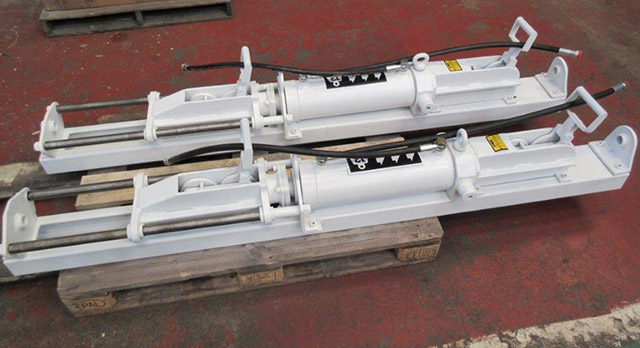 Used in a variety of industries including the erection of the roof of the Millenium Dome (now O2 Arena) here 36 x 6 tonne Simm-Pul units were used simultaneously to raise the roof into position.
| | SP6 6 Ton | SP12 12 Ton |
| --- | --- | --- |
| Overall Length (mm) | 1430 | 2000 |
| Overall Assembled Height (mm) | 450 | 500 |
| Simm-pul Unit (Kg) | 59 | 165 |
| Swivel Anchor Post And Value (Kg) | 44 | 95 |
| Wire Rope Diameter | 16.3 | 22.3 |
| Wire Rope Minimum Breaking Strain (Tonnes) | 18 | 36 |
Any length of pull governed only by length of rope
Self articulating anchor posts swivels through 360°
Automatically self locking jaws grips
Intrinsically safe
Overload pressure relief valve
Manually operated control valve
Each unit tested to 50% overload
Manufactured in the UK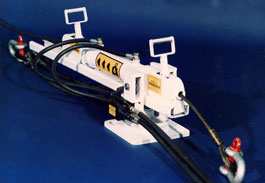 Simm high flow hydraulic intensifiers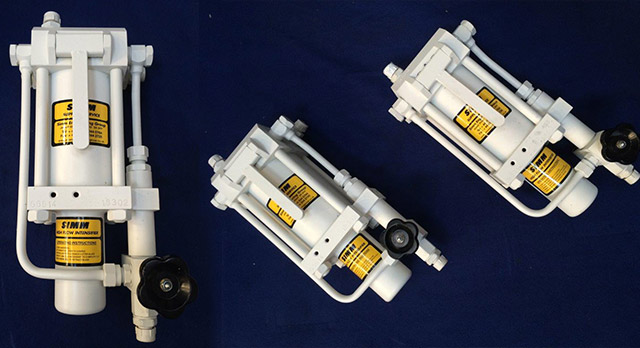 Extensively used with our range of chain and bolt cutters. The unit utilises the hydraulic pressure to boost pressure to the required level. It's ratio of intensification is 6.5:1 and the unit is protected by both an inlet pressure relief valve (up to 350 bar) and an outlet pressure relief valve (655 bar) to avoid overload. The unit is fully portable (weight 13kg) with inlet and exhaust thread. Operating instructions are provided but is simply achieved by closure of exhaust valve handwheel and the simultaneous raising and depressing of the valve lever until full travel is achieved. Pressure is relieved by opening the exhaust valve handwheel.
Simm Power Pack
The AH205 is of rugged all steel construction suitable for underground use and is protected by a stainless steel roll cage. The unit is double acting and ideal for operating the Simm range of MF rope cutters and cable cutters and for all double acting applications e.g. hydraulic rams, presses, hand tools etc...
| | | AH205 | | | |
| --- | --- | --- | --- | --- | --- |
| New Weight | 41 kg | Overall Height | 45cm | Overall Width | 28cm |
A full range of power packs are available on request
Simm hydraulic pumps
| Vavle Type | Usable Oil Capacity (Litres) | Model Number | Pressure Rating (Bar) | Oil Displacement Per Stroke (Litres) | Pump Type | Weight (Kg) |
| --- | --- | --- | --- | --- | --- | --- |
| 2 Way | 1.0 | HP110 | 700 | 2.3 | S/A | 5.6 |
| 2 Way | 0.45 | HP145 | 700 | 2.3 | S/A | 4.6 |
| 2 Way | 1.0 | HP210 | 700 | 13 / 2.3 | S/A | 6.0 |
| 2 Way | 2.3 | HP227 | 700 | 13 / 2.3 | S/A | 10.5 |
| 4 Way | 2.3 | HP227D | 700 | 13 / 2.3 | D/A | 12.5 |
Two-speed operation for reduced operator fatigue (except P-39)
4-way valving on the 9-84 and P-464 for operation of double-acting cylinders
External load release valve on remaining models for single-acting cylinder operation
Internal pressure relief valves for overload protection
Large oil capacities to power a wide range of cylinders or tools